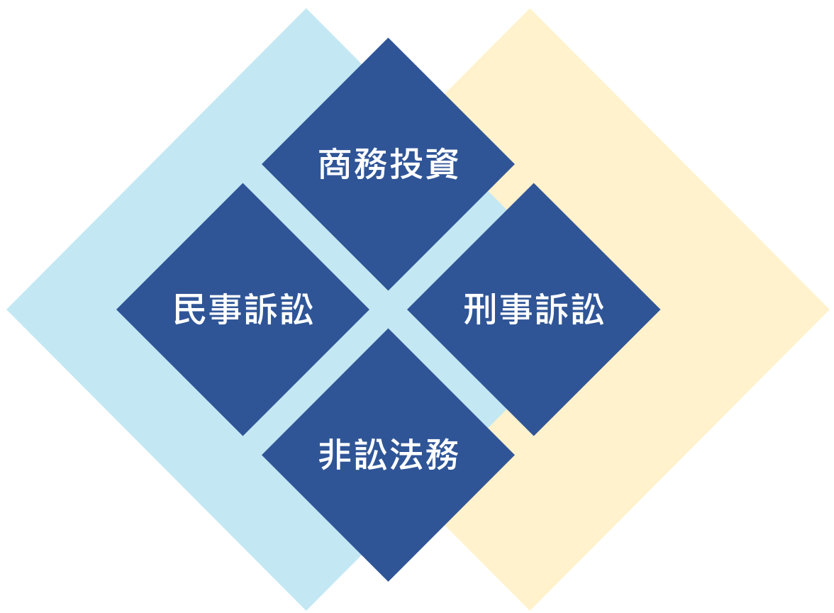 Personal/Family Legal Services
Specialized in civil, criminal, and administrative litigation, bilingual legal document drafting, and medical dispute resolution. A firm you can always count on when it comes to every type of dispute.
✓ Foreign investment planning for Taiwanese business people
✓ Apply for investment approval for foreigners
✓ Investments in Mainland China
✓ Provide legal consultation for foreigners who work in Taiwan
✓ Setup and plan off-shore companies
✓ Draft or provide legal opinion for contracts/letters of intent/ memorandum
✓ Transnational (transregional) damage compensation
✓ Litigation of loan for consumption
✓ Conciliation and litigation of heritage disputes
✓ Partnership/Equity cooperation disputes
✓ Real estate litigation
✓ Trade/lease/request for distributorship
✓ Mandate/employment disputes
✓ Oversea (transnational/Chinese) inheritance
✓ Draft or provide legal opinion for contracts in English
✓ Draft a dictated will
✓ Trust of property/real estate/securities
✓ Document notarization
✓ Administrative Appeal and litigation
✓ Violation of Securities and Exchange Act
✓ Violation of Company Act
✓ Violation of Trademark Act
✓ Offenses of malfeasance in office
✓ Violation of Government Procurement Act
✓ Medical disputes
✓ General criminal litigations
Quick online consultation
Welcome to the official LINE of First Law, briefly describe the situation of the case, and we will be happy to provide you with the assistance you need. There is no fee for online inquiry, and the content of the conversation will be strictly protected by personal information.